Current Shelter Population: 60
The Greater Chicago Ferret Association, also known as the GCFA, is the sole no-kill ferret shelter servicing the Northeastern Illinois area since 1987. The GCFA does not receive federal, state or local tax dollars and relies on donations and fundraising activities. Since our inception, the GCFA and its volunteers who dedicate countless hours each year have rescued over 6000 ferrets; the majority of which have been adopted or fostered out to their forever homes.
The GCFA Shelter is staffed by volunteers supporting ferrets in need of a loving and forever home. Located in a storefront, our space is limited and used to its fullest extent. If you would like to visit the shelter, please make an appointment so that, as our guest, you can have quality time with our volunteers and fuzzies. Our volunteer staff is limited and extremely busy with the ferret population's needs.
Please note that all visits to the GCFA shelter are by appointment only.  If you sent up an appointment to adopt a ferret, understand that appearing for an appointment does not guarantee you will be able to adopt a ferret as all adoptions subject to the approval of the GCFA staff.
If you are interested in visiting the shelter, please call the GCFA Shelter at 708.442.8650 to set up an appointment
Monthly Shelter Expenses
Food:
Litter:
Cleaning Supplies:
Vet/Rx:
Rent:
Utilities:
$500
$190
$90
$2500
$1460
$940-1800
..all prices are approximate..
Adoptable Ferrets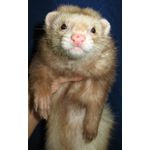 Ferret Name(s): Ferty
Sex: F
ID: 6861
Description: Date Admitted: 9-17-12 Ferty #6861 Ferty is a sweet 3 yr old champagne girl who has been with us for almost a year in September. She just lost her cage mate Keisha and is still looking for her forever home and is fosterable due to insulinoma.