Current Shelter Population: 60
How Odie got his name...
On Friday October 8, 2010 a call came in to the Greater Chicago Ferret Association about a ferret that was dumped at pet store and would we be willing to take it?  Of course the answer was yes and ironically the pet store was right around the corner from the show venue of our annual Greatest Ferret Show On Earth.  A volunteer went to pick up this ferret and brought him back to, The Odeum, where the GCFA was doing set-up in preparation for the show the next day.  There was some brainstorming on what his name should be, but in the end, Odie stuck.  Volunteers adopted Odie and gave him his forever home. Our beloved Odie represented, in a nutshell, what the GCFA was all about:  Educating the public on ferrets as pets, rescue, and most importantly forever homes.  
Odie has enjoyed doing Meet the Ferrets events, is a certified therapy ferret and has his own Facebook account so friend him: http://www.facebook.com/profile.php?id=100002716407023 
Monthly Shelter Expenses
Food:
Litter:
Cleaning Supplies:
Vet/Rx:
Rent:
Utilities:
$500
$190
$90
$2500
$1460
$940-1800
..all prices are approximate..
Adoptable Ferrets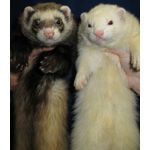 Ferret Name(s): Panchito & Mazda
Sex: M
ID: 6058 & 6057
Description: Date Admitted: 4-09-2010 & returned 3-02-2013Panchito #6058 is a sweet 6 yr old sable male and Mazda #6057 is a sweet 6 yr old silver male. These two boys originally came to us and adopted in 2010 and have since came back to us recently this year. They would love a true forever home for the rest of their years of life and they deserve so much more than what they have gone through!