Current Shelter Population: 60
Looking for a way to get involved with the GCFA? Check out our upcoming events, start a Petco 'Meet the Ferrets', come to a GCFA meeting, or even attend the GFSOE!
Events:
You can come to check us out, volunteer at an event and add information about a GCFA event to your Google calendar. Events hosted by GCFA include: WoozleFEST, Greatest Ferret Show, Holiday Christmas Potluck, plus more!
'Meet the Ferrets':
Would you like to start a 'Meet the Ferrets' event at your local Petco? Contact the GCFA shelter for more information at 708.442.8650 or email the GCFA Shelter at This email address is being protected from spambots. You need JavaScript enabled to view it. as the staff at the shelter have a template ready to share so you can get started right out of the box.
GCFA Meetings:
Come check out one of the GCFA general meetings to hang out with other ferret folks who've been loving these animals for many years. Share experience and learn from others' experience.
Greatest Ferret Show On Earth - GFSOE: http://www.greatestferretshowonearth.info/
Monthly Shelter Expenses
Food:
Litter:
Cleaning Supplies:
Vet/Rx:
Rent:
Utilities:
$500
$190
$90
$2500
$1460
$940-1800
..all prices are approximate..
Adoptable Ferrets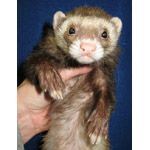 Ferret Name(s): Conan
Sex: M
ID: 6941
Description: Date Admitted: 12-23-12 Conan #6941Conan is a handsome 4 yr old Sable. His owner bought him on Craigslist a year ago, and has since moved out of their parent's home into a no pet apartment. He is a very sweet boy and would love a forever home where he can roam free through the house.