Current Shelter Population: 60
The Ferret 500 is a AFA Sanctioned Show to benefit Five Points Ferret Refuge in Indiana.
This year The Ferret 500 will be taking place on June 2nd 2012 at 10:00am at the Marion County Fairgrounds which are located at 7300 East Troy Avenue in Indianapolis, IN 46239. Please visit The Ferret 500 
website
for more information!
Monthly Shelter Expenses
Food:
Litter:
Cleaning Supplies:
Vet/Rx:
Rent:
Utilities:
$500
$190
$90
$2500
$1460
$940-1800
..all prices are approximate..
Adoptable Ferrets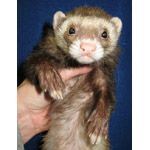 Ferret Name(s): Conan
Sex: M
ID: 6941
Description: Date Admitted: 12-23-12 Conan #6941Conan is a handsome 4 yr old Sable. His owner bought him on Craigslist a year ago, and has since moved out of their parent's home into a no pet apartment. He is a very sweet boy and would love a forever home where he can roam free through the house.