Current Shelter Population: 60
The GCFA holds bimonthly general meetings and bimonthy board meetings.
Here are the GCFA general meetings dates for 2012: February 10th 2012, April 13th 2012, June 8th 2012, August 10th 2012, October 12th 2012 and December 14th 2012
Here are the GCFA board meetings dates for 2012: January 19th 2012, March 8th 2012, May 10th 2012, July 12th 2012, September 13th 2012, and November 8th 2012
For more information on the next GCFA general or board meeting, please view our Calendar.
Monthly Shelter Expenses
Food:
Litter:
Cleaning Supplies:
Vet/Rx:
Rent:
Utilities:
$500
$190
$90
$2500
$1460
$940-1800
..all prices are approximate..
Adoptable Ferrets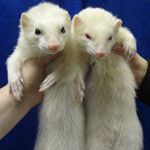 Ferret Name(s): Gordito and Burrito
Sex: M
ID: 6826 &6827
Description: Date Admitted: 7-12-12. Gordito #6826 and Burrito #6827. These two boys are just 1+ years old yet they have been given up twice now! These 2 are friendly, playful sweet ferrets who would love a forever home altogether. Taco has recently been adopted, so now Gordito and Burrito are looking for a forever home.