Current Shelter Population: 60
The GCFA follows strict guidelines when we adopt ferrets out of our care because we want to make sure they're going to a loving and FOREVER home.
Considering such, our adoption program is the heart and soul of the GCFA shelter. As much as we love each and every one of the ferrets that comes through our doors, we know that the ultimate goal is to get them all back out those doors and into a loving FOREVER home!
We have documented the details of our Adoption Process, and you can also read more about our Adoption Requirements.
If you meet the GCFA's requirements and are interested in adopting a ferret, or two, or three, or even more, please call the GCFA shelter for more information at 708.442.8650
Monthly Shelter Expenses
Food:
Litter:
Cleaning Supplies:
Vet/Rx:
Rent:
Utilities:
$500
$190
$90
$2500
$1460
$940-1800
..all prices are approximate..
Adoptable Ferrets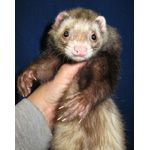 Ferret Name(s): Gizmo
Sex: M
ID:
Description: Date admitted: 5-12-13Gizmo is a very sweet 3+ year old chocolate boy. He came to us through Anti Cruelty. The owner had landlord issues.Gizmo is a very out going, friendly boy who does not want to be caged...he wants to play!