Current Shelter Population: 60
Do you have room in your heart and home to help us take care of our wonderful ferrets? Being a Foster Parent really does save lives! It is one of the most loving and kind things you can do, and you receive the wonderful feeling of knowing that you are saving the life of a ferret in need.
For more information about our foster program, please visit our Foster Requirements page.
Monthly Shelter Expenses
Food:
Litter:
Cleaning Supplies:
Vet/Rx:
Rent:
Utilities:
$500
$190
$90
$2500
$1460
$940-1800
..all prices are approximate..
Adoptable Ferrets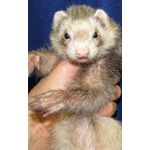 Ferret Name(s): Naomi & Serena
Sex: F
ID: 6855 & 6856
Description: Date Admitted: 9-6-12Naomi is an adorable 2 yr old sable girl and Serena is a pretty 4 yr old silver. Both came to us from Chicago Animal Control and are very sweet.