Current Shelter Population: 60
Our foster ferrets can live for years on maintenance drugs so we ask those interested in being foster parents for a $50.00 drug maintenance fee, per year, to help off-set the cost of the maintenance drugs.  This fee is per year and not per foster ferret.
Fostering Requirements & Rules:
Prospective foster homes participants will be 18 years of age or older
If you are not a home owner, you must have written approval of the landlord or owner of the domicile that the ferrets will be brought into
You must be a GCFA member in good standing
You must have a minimum of 5 years experience in handling and caring for ferrets
Foster ferrets are still the responsibility of the GCFA and foster homes represent temporary placement. The GCFA has final say on all matters concerning the treatment and final disposition of the ferret.
Foster homes will be financially responsible for providing housing, food, water and non-medical needs of the foster ferret. This includes special diets that may be needed by the pet.
The GCFA will be financially responsible for all veterinary examinations, diagnostic testing, surgery and medication fees incurred by the foster animal. All medical work will be done at Midwest Bird and Exotic Animal Hospital. If veterinary fees are incurred at other veterinary hospitals for any reason, the GCFA will not be financially responsible for reimbursing the foster home participant.
All prospective foster home participants will need to complete an application form and an interview with the Shelter Director or other staff designated by the Shelter Director.
Maintenance Drugs:
Metronidazole (Flagyl)
Prednisolone
Clavamox
Melatonin Implant
Monthly Shelter Expenses
Food:
Litter:
Cleaning Supplies:
Vet/Rx:
Rent:
Utilities:
$500
$190
$90
$2500
$1460
$940-1800
..all prices are approximate..
Adoptable Ferrets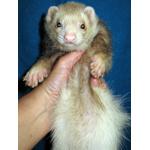 Ferret Name(s): Jaws & Rafikki
Sex: M
ID: 6920 & 6917
Description: Date Admitted: 11-18-12 Jaws #6920 and Rafikki #6917 Jaws is a handsome silver boy and Rafikki is a handsome champagne boy and both came to us as a group of 7. Their owner could no longer afford them. Jaws and Rafikki love other ferrets and need to go home together. Jaws is 3 years old and Rafikki is just 1+ years old and we were told both can be a bit nippy. They have not displayed any biting behavior at the shelter.