Current Shelter Population: 60
If you are facing any type of an emergency situation with your ferret, please DO NOT contact us - call your vet instead! In need of a vet? Please view veterinarian listings
If you have general questions, please review our FAQ page as you might find the answer to your question right away.
Please note that if you would like to schedule an appointment to surrender or adopt ferrets, please call the GCFA Shelter at 708.442.8650 as appointments cannot be made through this contact page. 
Form sumbissions are not monitored 24 hours a day as GCFA runs on volunteer staff members who review the submission as soon as they possibly can and respond as soon as they possibly can. Considering such, in advance we thank you for your patience and look forward to getting back to your soon!
Monthly Shelter Expenses
Food:
Litter:
Cleaning Supplies:
Vet/Rx:
Rent:
Utilities:
$500
$190
$90
$2500
$1460
$940-1800
..all prices are approximate..
Adoptable Ferrets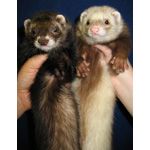 Ferret Name(s): Fire (Bandit) & Smoke (Smokey)
Sex: M
ID: 7014 & 7015
Description: Date Admitted: 5-02-13 Fire (Bandit) #7014 & Smoke (Smokey) #7015 These 2 are just 8 months old. They were a child's pet and severely neglected. Poor Smokey came in very thin and dehydrated. Both are now doing well and are on supplemental feedings to give their bodies the precious nutrient that they have been denied. They are very sweet and appreciate the love and attention they are now receiving.