Current Shelter Population: 60
Thinking about donating to the GCFA? There are many options that can suit your wallet, lifestyle and even shopping habits!
Consider...
Volunteering your time at the GCFA Shelter - For more information about become a volunteer, visit our GCFA Volunteer Interest page.
Attending GCFA hosted events - To find out about upcoming events, visit or GCFA Events page.
Bestow gently used ferret supplies, such as cages, bedding, toys, books, food. Please visit our Shelter Requests page or our 'Donate Food' page for more information. 
Giving a gift in memory of your ferret, such as funds for other ferrets in the shelter. Please visit our Donating Funds page for more information.
Remembering the GCFA in your will or in your yearly tax donations.
Other generous donators have given gifts via their online bill pay service, their paypall or even their employer's charity as they often match funds!
It takes a great number of people to make it possible to operate and maintain the GCFA shelter; there are those who devote time to volunteering services and others who donate money. It takes every one of these volunteers to make the GCFA shelter program possible. Considering such, we, as well as the ferrets, want to take time to say "Thank you!" to all our generous volunteers and donators - So Thank You!!
Monthly Shelter Expenses
Food:
Litter:
Cleaning Supplies:
Vet/Rx:
Rent:
Utilities:
$500
$190
$90
$2500
$1460
$940-1800
..all prices are approximate..
Adoptable Ferrets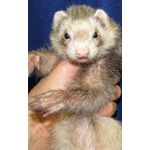 Ferret Name(s): Naomi & Serena
Sex: F
ID: 6855 & 6856
Description: Date Admitted: 9-6-12Naomi is an adorable 2 yr old sable girl and Serena is a pretty 4 yr old silver. Both came to us from Chicago Animal Control and are very sweet. Serena is fosterable due to insulinoma.