Current Shelter Population: 60
If you are interested in buying/ordering food to donate to our GCFA Shelter ferrets, please do so by going through our food account at Totally Ferret/Performance Foods: 
If you wish to use your credit cards to do so, please contact Liz Lovins at 1-877-545-5462 and tell her you wish to donate directly to the GCFA shelter's food account. 
If you are interested in using a check or money order, please make it out to Performance Foods, note the GCFA's account #50ILG0590, and send it to Liz Lovins at the below address:
Liz Lovins
Performance Foods 
575 Burbank Suite H
Broomfield CO, 80021
Monthly Shelter Expenses
Food:
Litter:
Cleaning Supplies:
Vet/Rx:
Rent:
Utilities:
$500
$190
$90
$2500
$1460
$940-1800
..all prices are approximate..
Adoptable Ferrets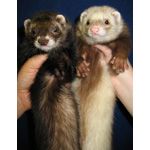 Ferret Name(s): Fire (Bandit) & Smoke (Smokey)
Sex: M
ID: 7014 & 7015
Description: Date Admitted: 5-02-13 Fire (Bandit) #7014 & Smoke (Smokey) #7015 These 2 are just 8 months old. They were a child's pet and severely neglected. Poor Smokey came in very thin and dehydrated. Both are now doing well and are on supplemental feedings to give their bodies the precious nutrient that they have been denied. They are very sweet and appreciate the love and attention they are now receiving.