Current Shelter Population: 60
If you are interested in donating money directly to the GCFA Shelter, you can do so either online or by regular mail.
To donate online, just click the link below!
If you prefer sending a check or money order donation, please make it out to 'Greater Chicago Ferret Assocation' and send it to the address below:
Greater Chicago Ferret Association
PO Box 3
Lyons, IL 60534
Monthly Shelter Expenses
Food:
Litter:
Cleaning Supplies:
Vet/Rx:
Rent:
Utilities:
$500
$190
$90
$2500
$1460
$940-1800
..all prices are approximate..
Adoptable Ferrets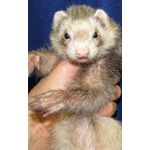 Ferret Name(s): Naomi & Serena
Sex: F
ID: 6855 & 6856
Description: Date Admitted: 9-6-12Naomi is an adorable 2 yr old sable girl and Serena is a pretty 4 yr old silver. Both came to us from Chicago Animal Control and are very sweet.