Current Shelter Population: 60
Ferret lovers are collecting aluminum cans to raise money for the GCFA with the help of the Frank Family. How so? Rather than just dropping your aluminum cans in your city recycle bin, please save your cans for the little fuzzies at GCFA!
The first collection date will be Saturday, March 31st and then the last Saturday of each month after that. You can drop off your collected cans at the Frank House, which is located at 1128 Crimson Ct., Naperville, IL and they will bring them to the recycling center and give the money to the GCFA. If the Frank Family is not home when you come, please just leave the cans securely bagged in front of their garage. The Frank family is also looking for others to volunteer their home to be a collection center for aluminum cans for the GCFA as well.  
If you have any question or comments regarding collecting aluminum cans for the GCFA, please email:  This email address is being protected from spambots. You need JavaScript enabled to view it.
Kisses from all the Woozles at the GCFA Shelter and a sincere thank you goes out to all of you who can help!
P.S. Please do not drop cans off at the GCFA shelter, there just is not enough room! Moreover, if you are interested in keeping the tabs off of your cans for other donation purposes, such as the Ronald McDonald House Charities, please feel free to do so as the GCFA is more concerned about collecting the actual cans for recycling. 
Monthly Shelter Expenses
Food:
Litter:
Cleaning Supplies:
Vet/Rx:
Rent:
Utilities:
$500
$190
$90
$2500
$1460
$940-1800
..all prices are approximate..
Adoptable Ferrets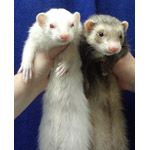 Ferret Name(s): Reef & Mary Anne
Sex: M
ID: 6780 & 6782
Description: Date Admitted: 5-24-12 Reef #6780 & Mary Anne #6782. These 2 are very sweet and seem very bewildered at finding themselves at the shelter. They are all around 4 years old and have been together. We would love to find them a home where they can go home together. Gilligan was adopted.