Current Shelter Population: 60
Break the habit of using Google, Yahoo or Bing whenever you need to search something on the internet! Do your internet searches using iSearchiGive.com or GoodSearch.com, choosing the Greater Chicago Ferret Association as your cause, and we make 1 to 2 cents per qualified search. This really adds up!
Monthly Shelter Expenses
Food:
Litter:
Cleaning Supplies:
Vet/Rx:
Rent:
Utilities:
$500
$190
$90
$2500
$1460
$940-1800
..all prices are approximate..
Adoptable Ferrets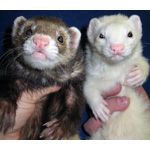 Ferret Name(s): Little Man & Sealy
Sex: M
ID: 6994 & 6995
Description: Date Admitted: 04-06-13 Little Man #6994 & Sealy #6995 These two 3+ year olds are very sweet. Their owner developed a medical condition and can no longer keep them.