Current Shelter Population: 60
Did you know that the GCFA earns a kickback % from various online purchases? See the list below of various websites you can purchase items from to help support the GCFA!
- With eScrip.com and the power of YOU, our group earns cash rewards when you do what you do anyway – shop! It's free, it's easy, and it's rewarding!
– By shopping at any of over 1,000 stores through GoodShop.com, the GCFA earns up to 30% of that sale. Just type "Greater Chicago Ferret Association" into the box under where it asks "Who Do You Support?" Near the bottom of the home page is a button that says "Help Spread the Word," which gives plenty of other easy ways to use this service and tell others about it.
Monthly Shelter Expenses
Food:
Litter:
Cleaning Supplies:
Vet/Rx:
Rent:
Utilities:
$500
$190
$90
$2500
$1460
$940-1800
..all prices are approximate..
Adoptable Ferrets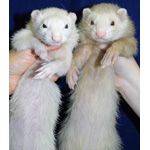 Ferret Name(s): Pippa & Denny
Sex: M
ID: 6936 & 6938
Description: Date Admitted: 12-13-12 Denny #6936Denny is a 6 year old cinnamon. He is very friendly. Denny has insulinoma and is fosterable. After losing his brother Dexter, he has fallen in love with Pippa, whom he has to go home with.<br>Date Admitted: 12-15-12 Pippa #6938 This little 2 yr old Dew girl was given up because she bites. She needs someone who is ferret experience to work with her and show her lots of TLC and patience and we believe she will quickly learn not bite. She has fallen in love with Denny, whom she has to go home with.