Current Shelter Population: 60
The GCFA Shelter is always in need of items as the shelter has a lengthy list of monthly expenses. Considering such, please think about donating any of the items below from our GCFA Shelter request list:
Cash Donations
Chicken Baby Food
Wood Stove Pellets (Menards)
Paper Towels 
Sun & Earth deep cleaning laundry detergent
Marshall's ferret food 
Totally Ferret food* 
13, 30 & 55 gallon trash bags
Laxatone (or Laxastat) 
"Ferrets for Dummies" book by Kim Shilling (new or used)
Brother TN-330 Toner Cartridge-for shelter printer 
Bedding Material - thin fleece
Ferret Nation Cages - New or Used
The GCFA Shelter's montly expenses are listed below so please considering visiting our Donating Funds page to help cover these costs. Please note that all amounts are approximate and subject to change.
Food: $500.00
Litter: $190.00
Cleaning Supplies: $90.00
Vet/Rx: $2,500.00 
Newsletter: $280.00
Rent: $1,200.00
Utilities: $940-1800
Monthly Shelter Expenses
Food:
Litter:
Cleaning Supplies:
Vet/Rx:
Rent:
Utilities:
$500
$190
$90
$2500
$1460
$940-1800
..all prices are approximate..
Adoptable Ferrets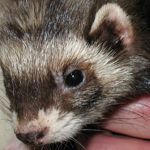 Ferret Name(s): Oreo, Noodle & Blank
Sex: M
ID: 7001, 7002, & 7003
Description: Date Admitted: 4-12-13 Oreo # 7003, Noodle #7001 & Blank #7002 These 3 are 4 years young! They have been together all their lives and would love to go into a loving home altogether. They are sweet, loving and playful! Blank is a 4 yr old male sable, Noodle is male DEW, and Oreo is a female dark sable.