Current Shelter Population: 60
There are four basic colors for Ferrets: Sable, Albino, Dark Eyed White (Also known as DEW), and Silver. Common Color Combinations: Sable, Silver, Silver Mitt, Sable Panda, Dark Sable, Chocolate Sable, Albino, DEW, and Hooded Sable.
There are also certain patterns and markings that a ferret can have with color. For example, a Sable can be a Sable Mitt if the ferret has a bib and the feet are all white, which would be considered a pattern. Here are some common ferret patterns: mitt, badger, blaze, hooded, roan, siamese or pointed patterened, panda, and shetland. A marking would be a Sable Bib, which would mean that the ferret has only a bib and no white feet, which is why the ferret couldn't be a Sable Mitt. Some common markings in ferrets include white tips at the tail, bibs, white feet, and rings around the eyes.
Monthly Shelter Expenses
Food:
Litter:
Cleaning Supplies:
Vet/Rx:
Rent:
Utilities:
$500
$190
$90
$2500
$1460
$940-1800
..all prices are approximate..
Adoptable Ferrets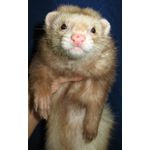 Ferret Name(s): Ferty
Sex: F
ID: 6861
Description: Date Admitted: 9-17-12 Ferty #6861 Ferty is a sweet 3 yr old champagne girl who has been with us for almost a year in September. She just lost her cage mate Keisha and is still looking for her forever home and is fosterable.