Current Shelter Population: 60
When the weather begins to get warm, heat stroke is a scary and life threatening thing that can happen to ferrets!
For information, please read the detailed article 'Heat Stroke In Ferrets' by Dr. Ruth Heller, DVM of Borderbrook Animal Hospital 
Here is some basic information to help your ferret in the mean time: Make sure your ferret's cage or carrier is not kept in direct sunlight and/or poor air-flow areas. Keep in mind glass can greatly amplify heat! Ferrets have undercoats and without proper airflow, the undercoats can prevent the excess heat from escaping. Generally accepted housing temps should fall in the 60's & 70's. Ferrets do not have sweat glands, and so if you see them breathing open-mouthed like a dog, or panting, this is an indicator that your ferret could be overheating. Other signs include lethargy, dizziness, vomiting, collapse and possible death. Do not try to cool your ferret down by submerging in cold water; this could cause them to go into shock. If you believe your ferret is suffering from heat stroke, seek veterinary attention immediately. On the way to the vets, you can gently rub cool water on the skin, especially the paws, and good air flow/fan will also help. If your ferret will drink water, let them, however do not attempt to give an unresponsive ferret water as they could aspirate!
Monthly Shelter Expenses
Food:
Litter:
Cleaning Supplies:
Vet/Rx:
Rent:
Utilities:
$500
$190
$90
$2500
$1460
$940-1800
..all prices are approximate..
Adoptable Ferrets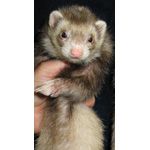 Ferret Name(s): Poppy
Sex: F
ID: 6876
Description: Date Admitted: 09-29-12 Poppy#6876 These beautiful 4 year old girls are very sweet. They came to us from another shelter as an owner give up. They are playful and friendly. Poppy just lost her sister Thistle :-( Won't you please find a place in your heart for Poppy?