Current Shelter Population: 60
Give a gift in memory of your beloved and your message will be printed in the next issue of 'Off The Paw' Newsletter. Many donate in memory of their ferrets, but so many more also give in honor of a person that cared deeply for ferrets, the GCFA, animals in general and sometimes their gift is in remembrance of someone very special and dear to them.
If you would like to donate in memory of someone special - please donate via paypal and we will make sure your loved one is remembered. There will be a place where you can enter what you would like to say on the paypal page.
Monthly Shelter Expenses
Food:
Litter:
Cleaning Supplies:
Vet/Rx:
Rent:
Utilities:
$500
$190
$90
$2500
$1460
$940-1800
..all prices are approximate..
Adoptable Ferrets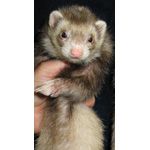 Ferret Name(s): Poppy
Sex: F
ID: 6876
Description: Date Admitted: 09-29-12 Poppy#6876 These beautiful 4 year old girls are very sweet. They came to us from another shelter as an owner give up. They are playful and friendly. Poppy just lost her sister Thistle :-( Won't you please find a place in your heart for Poppy? Poppy is fosterable due to insulinoma.