Current Shelter Population: 60
All ferrets adopted from the GCFA are not given vaccinations and we strongly encourage that you check with your veterinarian to see if your ferret should get a canine distemper or rabies vaccination.
Monthly Shelter Expenses
Food:
Litter:
Cleaning Supplies:
Vet/Rx:
Rent:
Utilities:
$500
$190
$90
$2500
$1460
$940-1800
..all prices are approximate..
Adoptable Ferrets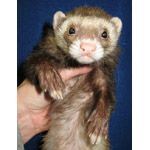 Ferret Name(s): Conan
Sex: M
ID: 6941
Description: Date Admitted: 12-23-12 Conan #6941Conan is a handsome 4 yr old Sable. His owner bought him on Craigslist a year ago, and has since moved out of their parent's home into a no pet apartment. He is a very sweet boy and would love a forever home where he can roam free through the house.