Current Shelter Population: 60
The GCFA Shelter does not currently board ferrets but we do know of some places that do. Below is list comprised of recommendations from others who own ferrets, it is by no means comprehensive and not endorsed by the GCFA (we are not responsible for the services they provide). Only you can choose a sitter for your fuzzies. Please ask a lot of questions to make sure that you are leaving your loved ones in the hands of someone you trust to care for them as you would.
Animal House of Chicago, Complete Veterinary Care, Inc.
2752 West Lawrence Avenue, Chicago, Illinois. 60625
Business: 773.878.8002
Fax: 773.878.0546
This email address is being protected from spambots. You need JavaScript enabled to view it.
DePAW University, Canine Campus
100 S. Glengarry Drive
Geneva, IL 60134
Business: 630.232.8663
Fax: 630.232.8667
This email address is being protected from spambots. You need JavaScript enabled to view it.
Miller's Menagerie
References Available
Exotic Pet Boarding Services
708.352.5582 
This email address is being protected from spambots. You need JavaScript enabled to view it.
Paws & Claws
Paws & Claws offers loving pet care in the Northern suburbs of Chicagoland. 
Piece of Mind Pet Sitting
Services are available in Minooka, Morris, Channahon, Shorewood, and areas of Joliet and Plainfield. 
Shannon's Pet-Sitting
"Quality Pet Care in the Comfort of Their Own Home" 
Shannon Cole
847.987.4322
Monthly Shelter Expenses
Food:
Litter:
Cleaning Supplies:
Vet/Rx:
Rent:
Utilities:
$500
$190
$90
$2500
$1460
$940-1800
..all prices are approximate..
Adoptable Ferrets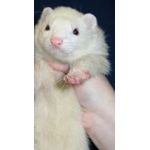 Ferret Name(s): Hershey & Bailey
Sex: M
ID: 6737 & 6736
Description: Date Admitted: 03-10-13 Hershey #6737 & Bailey #6736 These two adorable fuzzies are returns! Poor little Hershey came back to us just in time. He was extremely thin and had untreated insulinoma. He is doing quite well now with special feedings, TLC and the medication he needs. Hershey is now a foster. Hershey and Bailey would love a wonderful forever loving home that will take proper care of their special needs!