Current Shelter Population: 60
Below is a list of shelters that the GCFA currently partners with:
Bristol Ferret Club - United Kingdom
Father Natures Ferret Rescue - Wood Ridge, New Jersey
Ferret Lovers Society of Atlantic Canada - Halifax, Nova Scotia
Fox Valley Ferret - Hortonville, Wisconsin
Motor City Ferrets - Hazel Park, Michigan
Lakeroad Ferret Farm Rescue/Shelter - Naples, New York
Pennsylvania Ferret Rescue Association - Boalsburg, Pennsylvania 
Rocky's Ferret Rescue and Shelter - Parkton, Mary Land
South Jersey's Ferret Rescue and Sanctuary - Gibbsboro, New Jersey
The Ferret Den - Milwaukee, Wisconsin
The Ferret Nook - Cambridge, Wisconsin
Zoo's Ferret Sanctuary - Kirkland, Illinois
Monthly Shelter Expenses
Food:
Litter:
Cleaning Supplies:
Vet/Rx:
Rent:
Utilities:
$500
$190
$90
$2500
$1460
$940-1800
..all prices are approximate..
Adoptable Ferrets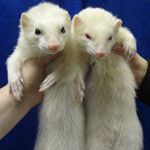 Ferret Name(s): Gordito and Burrito
Sex: M
ID: 6826 &6827
Description: Date Admitted: 7-12-12. Gordito #6826 and Burrito #6827. These two boys are just 1+ years old yet they have been given up twice now! These 2 are friendly, playful sweet ferrets who would love a forever home altogether. Taco has recently been adopted, so now Gordito and Burrito are looking for a forever home.